Social Media Image Sizes For 2020
Written By Yochay Yirmyahu
Opening a business social media profile is an important step that every business owner should take. After opening the pages, it is also advisable to use professional images in it that match the images size requirements on the site you are using. In this article, we will list the image dimensions you should use on most of the social media websites. You can find the image sizes for Twitter, Facebook, YouTube, LinkedIn, Instagram, WhatsApp and Pinterest.
It's also important to note out that social media sites often change their interfaces and the image sizes, therefore we won't be able to guarantee that the size is the article is the correct one but we will make sure to update this page from time to time. And if one of the sizes doesn't work for you let us know on the comment below and we will be happy to update you with the current size.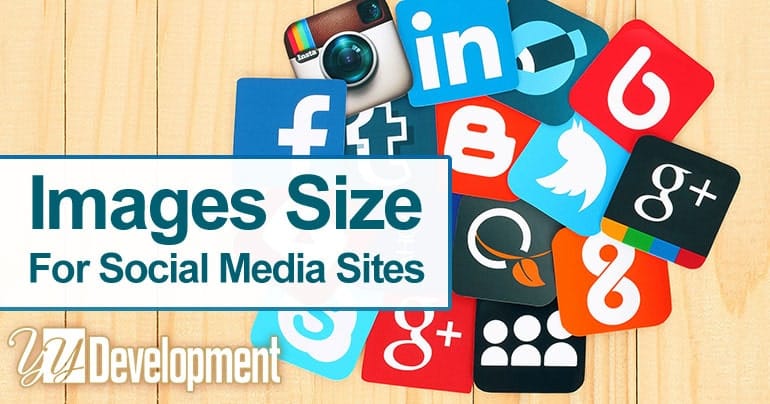 For fast navigation click on the article part you want to view:
Facebook Image Sizes
Nowadays Facebook is the most popular social media website and we also have a tutorial that will teach you how to create Facebook business page. Below you will be able find the recommended image sizes for Facebook.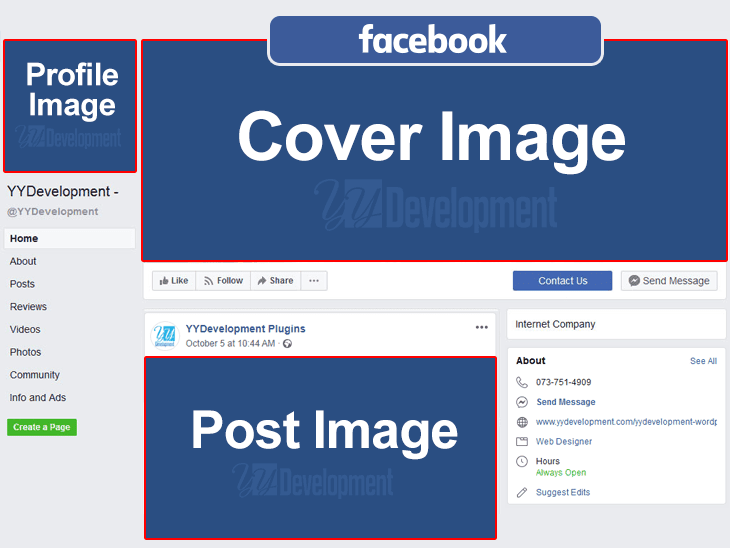 It's important to note out that the Facebook cover design image size is 820x312px but that size display doesn't work well on mobile so we use the 820x462px size instead.
Are You Looking For A Professional Website Development Services For Your Business?
We will be happy to help and create an amazing website for your business. Leave your details below and one of our representatives we will contact you shortly:
Twitter Image Sizes
Twitter is another social media site that allows you to tweet short updates to your followers. Below you can see the recommended image size when using a Twitter page and let us know if you are looking for a professional Twitter banner design.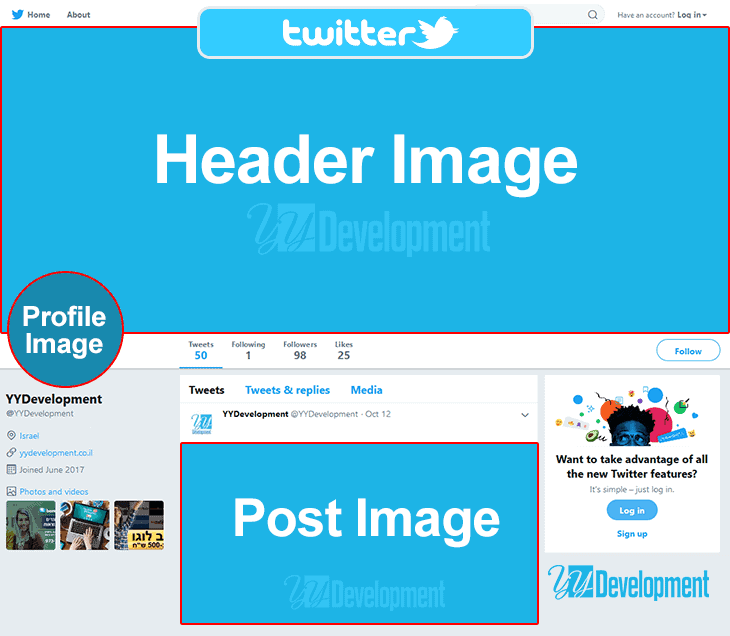 LinkedIn Image Sizes
LinkedIn is a social network that enables business collaborations between entrepreneurs, business owners and companies.
The LinkedIn banner design is a bit different from other social media website because they require really big image but show only small fraction of it. In LinkedIn similarly to Facebook we have company's business pages and profile pages and the sizes are a bit different for each one.
LinkedIn Images For Business Page
LinkedIn Images For Profile Page

Instagram Image Sizes
Instagram is a social network that belongs to Facebook and by using Instagram you can upload photos and videos in real time over the phone.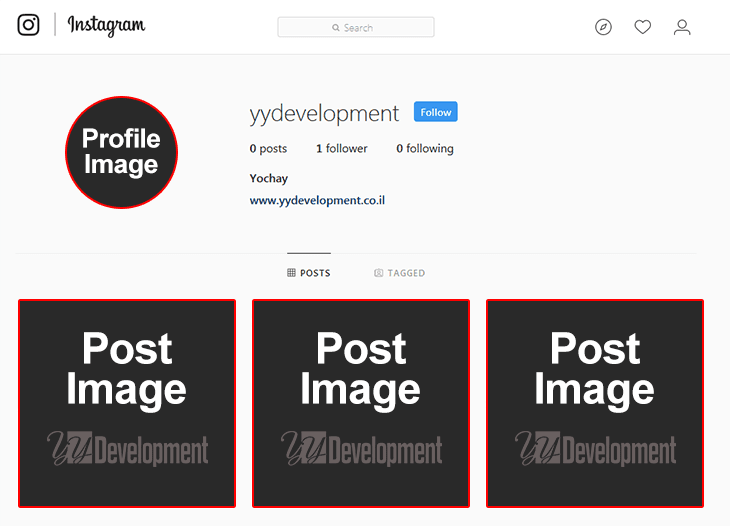 WhatsApp Image Sizes
WhatsApp is a phone app that allows us to communicate with contacts on our phone. Recently WhatsApp launched WhatsApp Business App that will allow you to create business profile as well.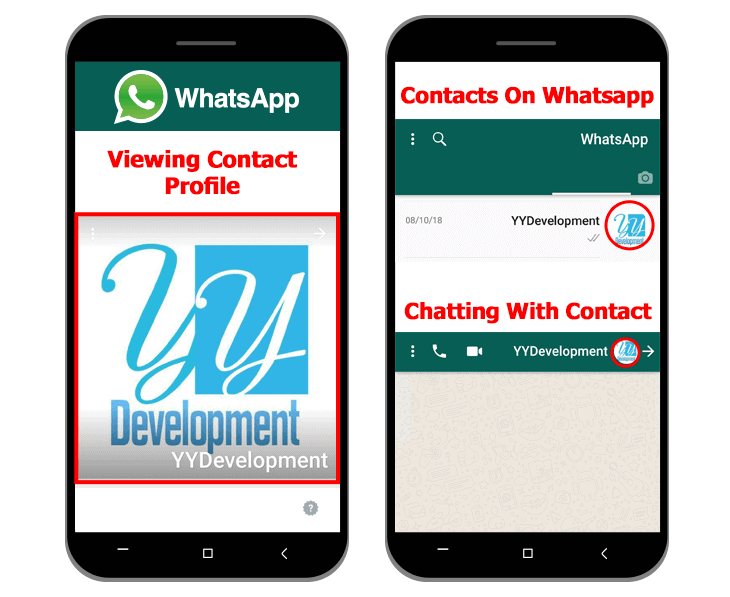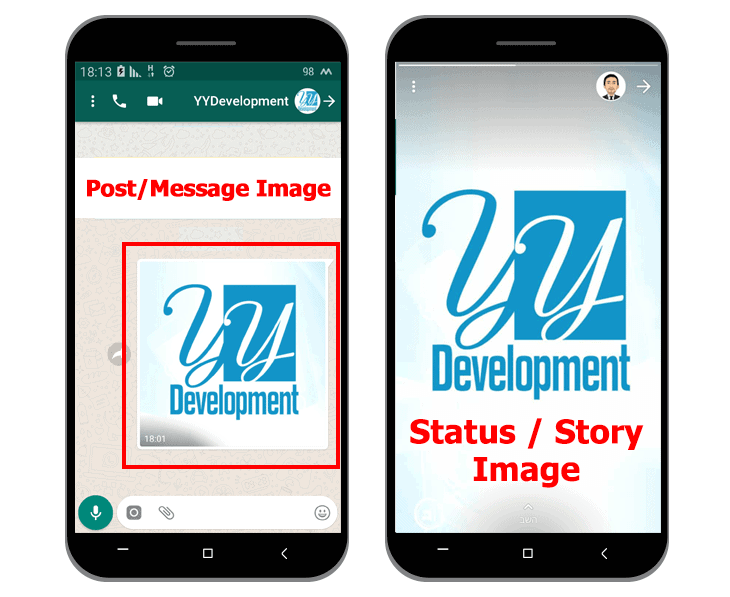 YouTube Image Sizes
YouTube is one of the best social media websites. With a YouTube page, you can upload videos and promote your business or yourself as an artist or video blogger. For those of you who are interested we are also offering professional YouTube banner design services.

Pinterest Image Sizes
Similarly to Instagram Pinterest is another and very popular social network for photo sharing. The advantage of Pinterest on Instagram is that you can also share your photos using your computer and not just the mobile.
Few More Important Tips
In this article we have provided you with all the important image sizes for the most popular social media websites. Using the correct images size is a start but alone it's not enough to create a professional page and here are some additional tips for business owners with social media pages.

Be Aware Of Image Size Changes – We maintained above the interfaces and image sizes on social media sites often change, therefor when you upload a photo check from time to time that it works correctly on your home computer and on your mobile device.
Profile Image Size – We recommend to upload the profile image size as 400x400px image and even due it will be displayed in smaller size it's still important to use high quality photo. With business profile it will be the common to use the logo design or logo icon inside the profile box.
Main Banner Design – The main banner design for the social media page is one of the most important elements on the page. You should use a professional design that people will like. It's also important to make sure the image display correctly on both the desktop computer and on smartphones. For those of you who are looking for a professional design we can help and offer the following services: Facebook cover design, Facebook Ads Design, Twitter header design, YouTube channel art design, LinkedIn banner design and we also have a social media package with a discounted price.
Posts image size – We specify above some of the posts image sizes and although this is the recommended size you don't have to use the exact size. You can play around with the sizes and see what works best. As long as the display works well on both the computer and mobile you should be good.
Don't use Google images – One of the most common mistakes is to use google images. Using images without permission is not allowed and you should avoid doing it. There are many free images website and there are also paid website that allows you to buy the image copyright and use it right for just few bucks.
Subscribe To Our FREE Newsletter
Did you like this article? Don't miss on our useful free content. Join our newsletter list we will keep you posts on new content we post here on our blog.
If you liked this article share it and give your friends the opportunity to like it as well.
Did you find that one of the sizes wasn't right? Looking for other social media image sizes? Share it with us using the comments below and we will be happy to help.
If you find that one of the sizes listed above is incorrect please let us know in the comments below and we will do our best to check it out and update the article as soon as possible.