How to Create Facebook Business Page
Written By Yochay Yirmyahu 2 Comments
Facebook has become an excellent platform that enables business owners, companies and freelancers to advertise themselves and their business online. There are many reasons why business owners should create Facebook business page and the main reasons are that nowadays almost everyone has Facebook account and that creating Facebook business page is FREE.
In this tutorial we will teach you step by step how to open a Facebook business page/account, how to update your business information into the page, how to change the cover image and the profile picture, how to add a contact button to the page, how to get page likes and how to publish the first post on your new Facebook business page.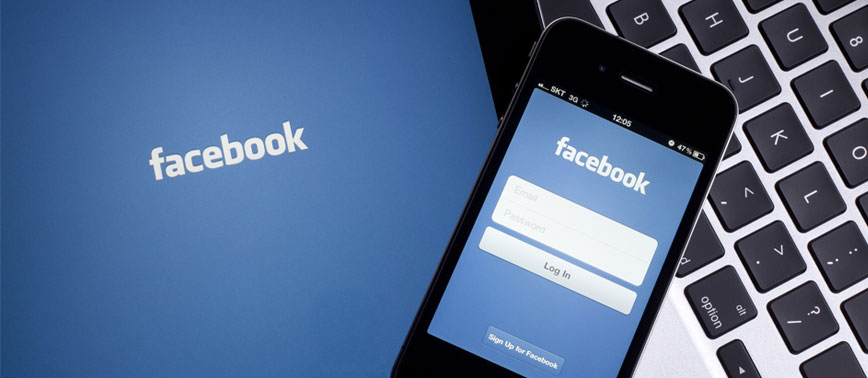 Creating Personal Facebook Profile
Most people nowadays have a personal Facebook account and if you already have one you can skip this step. For those of you who still don't have a Facebook account you will have to create a personal account in order to open a business page. It is not required to open the account with your real info but it is preferable to do so and there are 2 reasons why you should open a Facebook account with your real details:
Facebook tends to limit certain accounts without any notice or justified reason. When they limit your account you'll have to prove that the account belongs to you. If your account is restricted Facebook may ask you to send a picture of yourself or picture of your ID and they will expect that the details on the ID will be compatible with your account info. If you cannot validate your personal account the business account/page will also be blocked as well.
When it comes to being freelance, people who want to work with you might also check your personal profile and not just the business page. If you build

impressive

personal Facebook page as well you can drive more work to your business.
Opening a Facebook account is a very simple. All you need to do is go into Facebook, enter your details and click on the Create Account button. After registering you will receive an email and you will have to verify the account. At the end of the verification you will have a Facebook account and you will be able to start using it.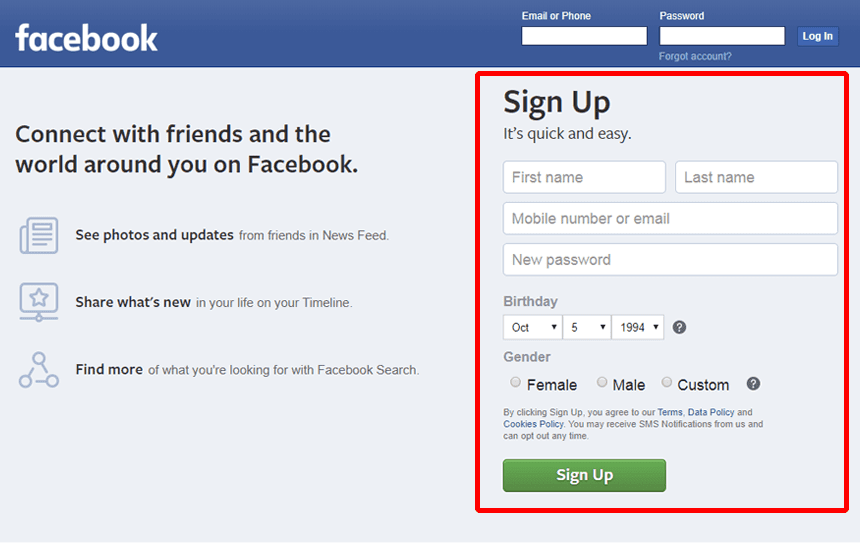 Are You Looking For A Professional Website Development Services For Your Business?
We will be happy to help and create an amazing website for your business. Leave your details below and one of our representatives we will contact you shortly:
How To Open A Business Page On Facebook
When you finish creating a personal Facebook account all that will be left is to create your business page. To open a business page on Facebook, click the "create" button at the top menu bar and select the "Page" option. Facebook often changes the interface of the site and therefore it is likely that in the future the location of the create page button on Facebook will change its location.
If you are not able find the Facebook create page button click on the link below:
https://www.facebook.com/pages/create/?ref_type=pages_you_admin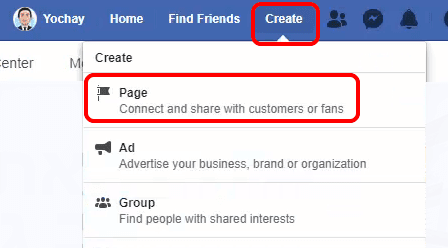 In the Facebook create page you will have few choices and you will need to choose the most suitable option for your business, between "Business or Brand" and "Community or Public Figure".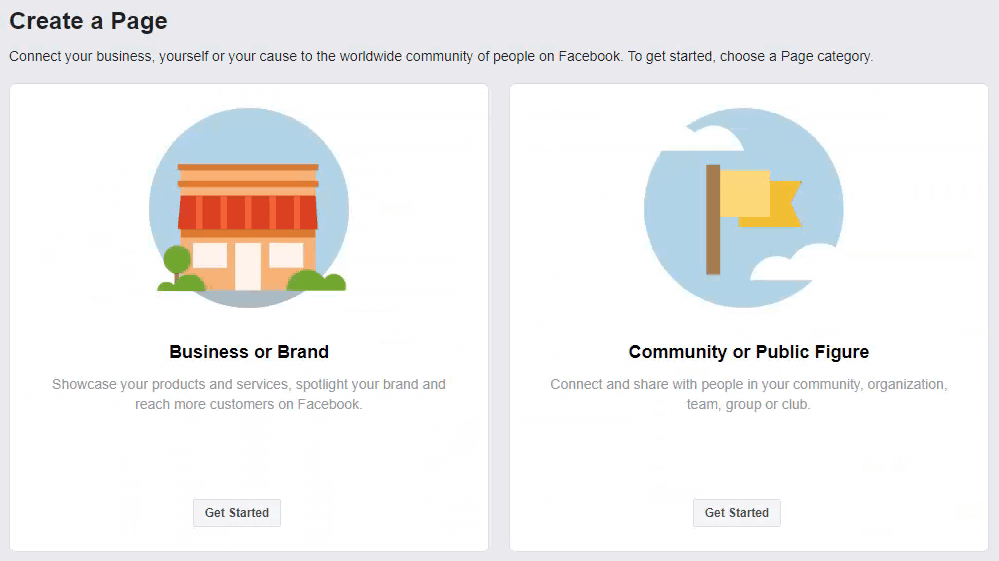 Choose the option suited best to your business or product and then you will be able to insert info about your business such as: page name, category, address, phone number, zip code etc….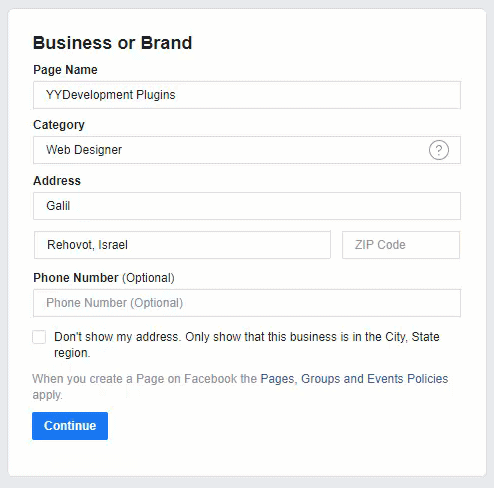 After clicking on the continue button you will have the option to set the profile and cover image. For now click skip for all the windows as we are going to explain how to make the changes from the Facebook page itself.
How To Find Your Business Facebook Page URL
Finding your Business Facebook page URL can sometimes be a little tricky when you are new to Facebook. When creating your Facebook page you will be automatically redirected to the business page but you can also find the URL from any page on Facebook.
You can find the business page URL by clicking the arrow that at the top menu bar and there you can select the Facebook page you have created.

Uploading Facebook Cover Image
The Facebook cover image is one of the most important elements on your page. The cover image is the banner that appears at the top of your Facebook page, and usually that banner is the first thing your viewers will see on the page. According to the Facebook cover design your viewers will probably make their first impression on the page and therefor it's important to have a professional design. You can upload as cover image static images, animated GIF and you can even load videos.
At the time of the article release the Facebook cover image size is 820×312 pixels (820 in width and 312 in height) but keep in mind that Facebook changes the image size all the time.
To change or upload your Facebook cover image go into your business page, click on the "Add a Cover" button and choose "Upload Photo/Video". Afterwards Select the image you want from your computer and make sure it display properly on both desktop and mobile.

It is also recommended to use a banner designer to create a professional design that will represent your business in the best possible way and grant your viewers a positive impression on your page and business.
Looking For A Professional Facebook Cover Design?
We will be happy to help and create an amazing Facebook cover design for your business. Leave your contact info below and one of our experts will contact us shortly.
Uploading Profile Image To Facebook
Business Facebook profile image will usually be a picture of your logo design in variations that fit the profile image squire/circle. If you are using your logo in the profile image it is recommended to use a professional design to fit the small square/circle. Do not simply toss the logo image into the page because it won't display well.
The recommended size for uploading the Facebook profile image is 500×500 pixels. You can also upload smaller images like 180×180 pixels but you will get a warning from Facebook that the image is too small.
To update/upload the profile image, click the profile image "upload" button, choose "upload photo" and then select the image from your computer.

Adding Your Business Info Into Your Page
The next step is to add your business details into the page. At this point you can add details about your business such as: your company name, your story, e-mail, website, address, category and so on…
To edit your business details click on the left menu "Show more" button (if you have it) and choose the "About" page.
On the about page you will be able to set all the required data and important information related to your business.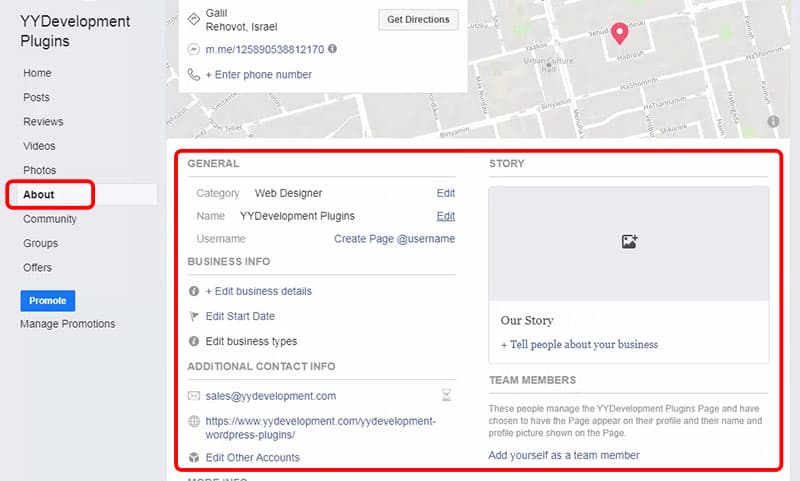 Creating Posts On Your Facebook Page
If you've reached this far, you've gone through the hard part of creating and setting up your Facebook page. All that's left to do is publish your first post on your new page. Creating a post on Facebook is a very simple, all you have to do is go into your business page and below the cover image you will have a small box containing the text "write a post" click on it and add the text you want for the post. You can also add photos or videos to the message in order to make it look more interesting.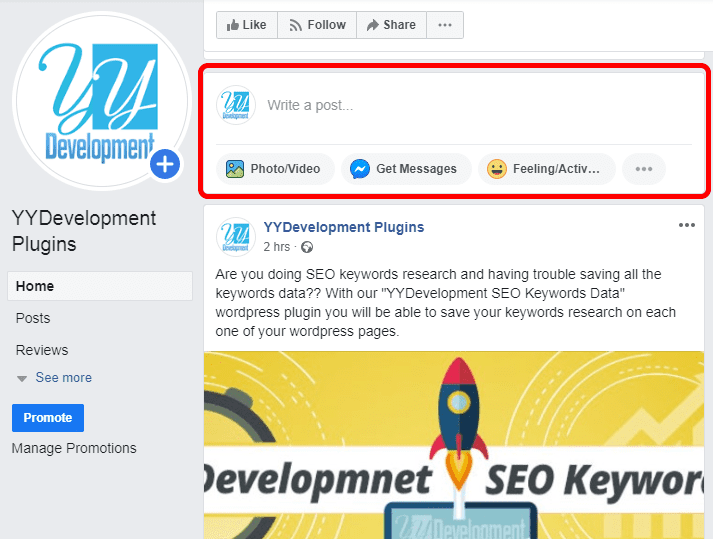 How To Get Facebook Likes?
The next thing you need to do is get likes for your Facebook business page. An active page with likes is going to make your page look more professional in the eyes of the potential customers watching it. There are several ways to get likes on Facebook but the best of all of them is to create an interesting Facebook page with quality content.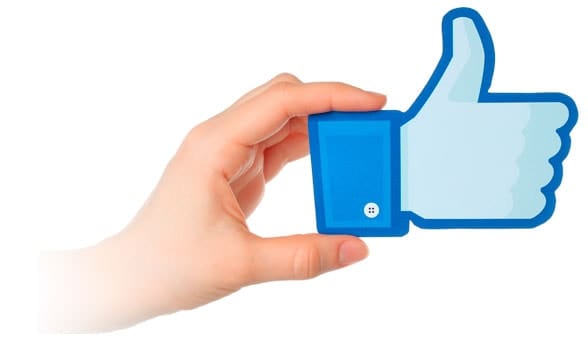 The first thing you can do is ask your friends and family to like your Facebook page.
You can get like by giving incentives to people to like it. For example offer $5 discount for anyone who likes your page.
As already mentioned above you should create high-quality content and interesting posts that will make visitor like your page.
Add a like button to your site – you can add a like button to your site and ask people to click on it and like your page.
There is another way to get the likes but it's not something we recommend. It's possible to buy your Facebook likes. If you saw some Facebook pages without any interesting content and with crazy amount of likes then it's probably mean that the person who is running the page bought them. Nowadays you can buy 100-5000 page likes for just few dollars.
A lot of business owners choose to buy likes but it is best not to take a chance that Facebook will find out about it and decide to restrict your account (something that happen very rarely). In addition, most of the Facebook likes offers are giving you random likes from people all over the world and that is not something we will normally want.
The Disadvantages Of Facebook Page
Although there are many benefits for Facebook business page there are also some big disadvantages. Unlike website development creating a Facebook page does not cost money but at the end of the day the page is not your property but Facebook's. There are many business owners and famous figures that spend a lot of money and effort into their Facebook page and then suddenly out of nowhere & without any prior notice Facebook decided to close their page for no particular reason.
Once your page is closed in most cases, you will have no one to talk to. And that is a big problem even without mentioning the invasion of privacy and the data Facebook collects on all of us.
Opening a Facebook page is a great idea for your business and doing it right will require investing the time into developing and promoting your profile. But even due creating a Facebook page is great we recommend that you don't put all the eggs in one basket and don't forget that the page doesn't belong to you at the end of the day.
You should start with Facebook business page and try to evolve into different directions like WordPress website development, paid advertising using wordpress landing pages, YouTube channel and so on…
Conclusions To Opening A Facebook Business Page
As you were able to see in this tutorial creating a business Facebook page is quite a simple and with the help of our guide it was probably been even simpler. If you have opened a Facebook business page we recommend to keep it professional and contact a graphic designer that will help you create Facebook cover design and profile image design.
Always remember that at the end of the day your Facebook page does not belong to you to and it's Facebook property, so don't invest to much in it until it start providing some returns for your business.  We wish you best of luck with promoting your business and if you have any question don't hesitate and leave them in the comments below.
Subscribe To Our FREE Newsletter
Did you like this article? Don't miss on our useful free content. Join our newsletter list we will keep you posts on new content we post here on our blog.
If you liked this article share it and give your friends the opportunity to like it as well.
Do you have any questions or something to add, share it with us in comments below?
We are always happy to learn new things and to help website viewers. If you have any questions or anything to add, we will be happy to hear from you.
2 Comments